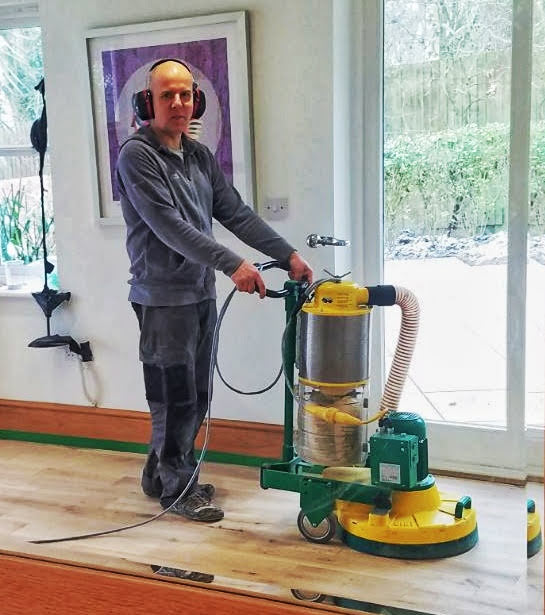 My name is Arnis Augulis: I am originally from Latvia but have been living and working in the UK since 1998 I have worked with several UK companies specialising in installing and refurbishing wood and stone surfaces, in a very wide range of buildings, mainly with flooring and similar surfaces.
Since 1998, my company, AA Floors, has specialised in the finishing of new and old wooden floors - supplying, fitting, repairing, sanding and finishing to the highest standards.
We are a well established wood floor finishing team, fully experienced and equipped with the finest European floor working and finishing machinery.
We have long experience in using the most advanced modern, and the best traditional, floor treatments and finishes - our close relationships with manufacturers of these timber treatments mean we can match and reproduce any existing flooring - whatever the colour or finish: if you provide us with a sample, we can replicate it.
We are able to apply most types of flooring treatments, for example :- water based lacquers; hard wax oils; solvent-basedand solvent-free high performance finishes.
For creating colour effects and wood staining, we use many different techniques - spirit based stains, reactive stains, aquavintage stains, aquapads, tinted sealers or oils.
Other types of treatment we carry out include: for oak flooring ageing, the traditional method of aqueous ammonia darkening; for wood bleaching we use non-harmful oxygen-based systems rather than acidic or alkaline processes.
If you do not need a complete floor to be refurbished, we can work on small localised areas only - so we can work from a small stained patch or damaged single board or block up to whole rooms and buildings.
We also repair and refurbish all sorts and sizes of timber worktops and tables - we treat them with the best table and worktop sealers and treatments to give exceptional wear and stain resistance whilst keeping the natural 'feel' and appearance of the original wood.
Some of the projects where we have carried out flooring finishing: Ashmolean Museum, Oxford; Tate Britain, London; Royal Opera House, London; Newport Street Gallery, Lambeth; Gagosian Gallery , London; Central Square North, Newcastle upon Tyne; many other public and private properties.
We are not a 'builder' who can 'do everything' - we are a specialist floor finishing team,
who know how to finish wood floors -
Properly. Painstakingly
Carefully. Conscientiously
Beautifully !